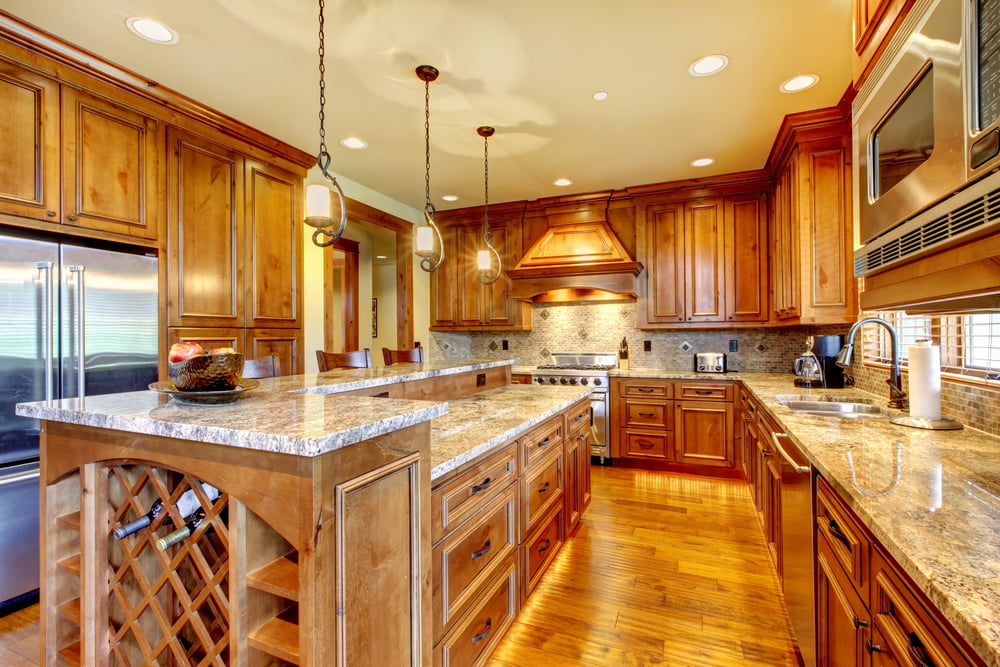 Custom granite, just like any other personalized element in your home, is going to offer more efficiency, a better match to your style and likely a home value boost. But what makes custom granite different from other granite? It depends on what you define as custom.
Granite is a natural stone, which is created in the magma chambers of volcanoes where it slowly cools/rises to the earth's surface over several thousand years. In other words, you can't request that a volcano create a certain color, pattern or characteristic. You can choose from many stunning granite slabs, and Mother Earth has a better eye for design than any human could dream up in a man-made material.
Custom granite may refer to your ability to choose from a wide selection of slabs sourced from around the world and available in a variety of thicknesses. It may also refer to large slabs, which can be custom cut to your specific needs, as opposed to remnants. Remnants are leftovers, usually from a previous client, and often aren't large enough to be used as a single-slab countertop. However, remnants can be scored for a great price and are ideal for smaller areas.
When it comes to granite, should you go custom? Here are a few of the biggest advantages:
1. You choose the size:
Size definitely matters when it comes to natural stone. Maybe you want an extra-thick slab to make your dreams come true. Maybe you're after a plus-sized kitchen island in an unorthodox shape. Perhaps you have a penchant for Greek granite over all others. With custom, the sky's the limit in terms of size, shape and thickness.
2. Higher home values:
Time and time again, real estate studies have shown that granite is the most desirable material to have in a kitchen or bathroom. Custom granite can dramatically increase the value of your home. That's why it's so often used in flips and remodels. If you think you may sell your property one day, remodeling the kitchen gives you the most bang for your buck — especially if you include granite features.
3. Zero seams:
A high-quality installation will appear and act seamless no matter what. However, the larger the slab (and the fewer the seams when trying to match up remnants), the stronger and more beautiful the piece. Granite is a natural stone, which means it's porous. Seams, when not matched up correctly, can allow for the ultimate bacterial breeding ground. The winning combination is custom granite, an expert installer and a quality stone sealant.
Custom granite lets you enjoy exactly what you want, without any compromises. If you're going to add this beautiful stone to your home, make sure it's your idea of perfection. Shop Creative Granite & Design for the largest inventory, expert and friendly service, and custom granite options galore.