As the holiday season approaches, the heart of the home—the kitchen—takes center stage. Thanksgiving, Christmas, and other festive occasions bring family and friends together, uniting them around the joy of sharing delicious meals. If you're fortunate enough to have granite or other natural stone countertops in your kitchen, you have an additional reason to celebrate. These timeless surfaces not only enhance the aesthetics of your cooking space but also contribute to a practical and enjoyable culinary experience. In this blog post, we'll explore how to make the most of your granite or natural stone countertops during the holiday season.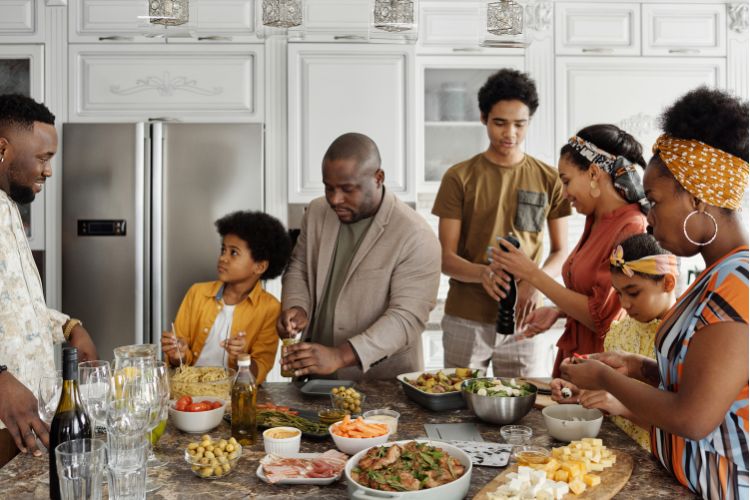 Elegance Meets Functionality: A Perfect Pairing:
Granite, marble, and other natural stone countertops are known for their unmatched beauty and durability. The unique patterns and colors of these stones add an elegant touch to your kitchen, creating a warm and inviting atmosphere. Beyond aesthetics, these countertops are also highly practical, providing a durable and heat-resistant surface that can withstand the demands of holiday cooking.
Preparation Paradise: Ample Space for Culinary Creations:
One of the primary joys of hosting holiday gatherings is preparing a feast for your loved ones. Natural stone countertops offer an expansive and versatile workspace, allowing you to lay out ingredients, chop vegetables, and assemble dishes with ease. Whether you're crafting the perfect Thanksgiving turkey or baking a selection of festive treats, the ample space provided by your countertops ensures a seamless cooking process.
Easy Cleanup: Resilience in the Face of Culinary Chaos:
Let's face it—holiday cooking can get messy. From spilled ingredients to accidental splatters, the kitchen often bears the brunt of the culinary chaos. Fortunately, natural stone countertops are easy to clean and maintain. Their non-porous surface resists stains, and with proper sealing, you can enjoy worry-free cooking without compromising the integrity of your countertops.
Showcasing Your Culinary Masterpieces: Instaworthy Presentation:
Presentation is key when it comes to holiday feasts. Natural stone countertops provide an ideal backdrop for showcasing your culinary masterpieces. Whether you're arranging a dazzling array of appetizers or presenting the pièce de résistance at the center of your table, the stunning surface of your countertops will undoubtedly enhance the visual appeal of your spread.
A Timeless Investment: Lasting Memories and Lasting Countertops:
Investing in granite or other natural stone countertops is not just a practical choice for the holidays—it's a long-term investment in the heart of your home. These durable surfaces can withstand the test of time, ensuring that your kitchen remains a timeless and functional space for years to come. The memories created around the holiday table are mirrored in the enduring elegance of your countertops.
Conclusion:
As you gather with family and friends to celebrate Thanksgiving and other holidays, take a moment to appreciate the beauty and functionality of your natural stone countertops. From the joy of cooking to the pleasure of sharing a meal, these countertops play a central role in creating a warm and welcoming kitchen environment. Embrace the festive spirit, savor the culinary delights, and make lasting memories around the heart of your home—your stunning natural stone countertops.
Have a wonderful and happy Thanksgiving! 
– Creative Granite & Design