Custom granite countertops are the ideal way to give your kitchen a dramatic and functional update. Having a backsplash made from the same slab will give your counters a high-end, finished appearance.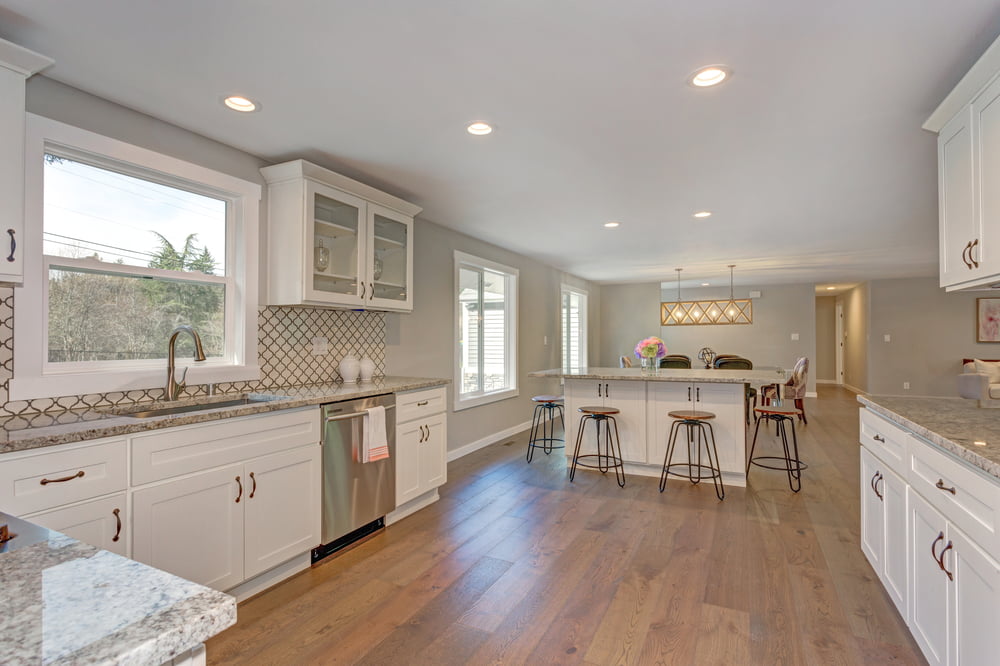 Most Intermountain West homeowners are familiar with standard granite backsplashes, which are typically about six inches in height. However, installing a full-height kitchen backsplash, or one that extends from the counter all the way up to the bottom of the cabinets, is quickly becoming a popular interior design trend.
Any custom granite backsplash – whether standard or full-height – can boost the style of your kitchen. So, which should you choose?
Pros and Cons of Standard Granite Backsplashes
Cost is arguably the single greatest advantage to installing a standard height kitchen backsplash – those few extra inches of granite won't add much to your overall granite countertop budget.
Convenience is another benefit. In most cases, standard backsplashes can be installed at the same time as the countertops, so your kitchen renovation can be completed more quickly. Standard height designs also give you more interior design flexibility. With a six-inch custom granite backsplash, a large part of the wall is left open – which means you can add your own decorator touches.
As for drawbacks, a standard backsplash leaves most of the wall space unprotected. Food splashes and grease can accumulate, posing a cleaning and maintenance challenge.
Pros and Cons of Full-Height Granite Backsplashes
Full-height custom granite backsplashes are typically favored for their impressive style and upscale look and feel. Extending the natural stone all the way up the wall provides a gorgeous look that exudes luxury.
Another reason to consider a full-height backsplash is maintenance and cleaning. Food splatter is easy to remove from the stone surface. In fact, all you need is a damp cloth or sponge and a mild cleanser.
The downside to installing a full-height backsplash is that installation takes additional time. This type of installation is completed in two stages, as the space between the counters and the cabinets must be measured again after the custom granite countertops are installed in order to ensure a perfect fit. Plus, because more materials are required and the labor is more intensive, full-height backsplashes are more expensive to install than standard backsplashes.
How to Choose a Backsplash for Your Custom Granite Countertops
Ultimately, the choice between a standard or full-height backsplash for your custom granite countertops is yours to make. You'll need to carefully weigh the pros and cons to come to a decision.
The help you make your decision, consult with a local custom countertop and backsplash fabricator. An expert can help you explore your options and provide sound advice tailored to your specific kitchen design plans.
If you live in Utah, Idaho or Wyoming and want help deciding on a kitchen backsplash to complement your custom countertops, talk to the professionals at Creative Granite & Design. As an Intermountain West industry leader for more than 17 years, our team has the expertise to answer all your questions and guide you toward your perfect granite backsplash solution.
Creative Granite is known for high-quality countertop and backsplash fabrication, masterful installation and exceptional customer service. Contact our Salt Lake City office today to schedule a complimentary consultation for custom granite countertops.