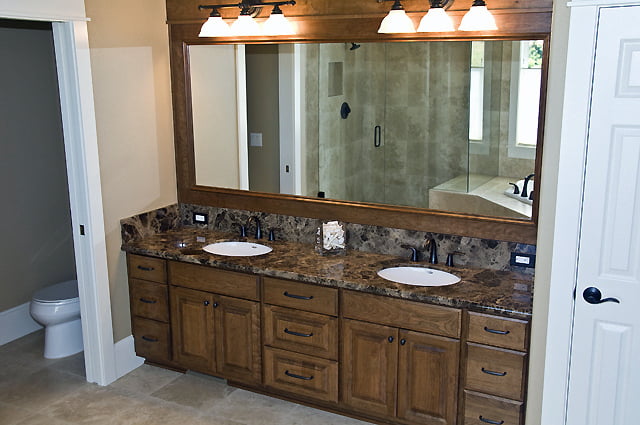 Custom granite, just like anything else that's personalized, is the only option that will give you exactly the stone you want.
The odds of lucking out and finding a slab that happens to perfectly match your tastes, needs and budget are slim to none. However, since granite is a naturally occurring stone, how can it be customized? Doesn't all granite need some processing? (Short answer: Yes.)
Custom granite takes what's often the most desirable of slabs and offers you your pick and the opportunity to design what the final product will look like.
Consider the slab thickness for starters. The bare minimum is usually three centimeters, but you can go virtually as thick as you'd like. Of course, the cost of any natural stone will go up as the thickness increases.
Next is the actual piece of granite you like. Again, a naturally occurring stone is one of a kind, and you might fall in love with a certain section that has particular characteristics, colors or patterns that catch your eye.
With custom granite, you can ensure the specific piece you want is in your bathroom, kitchen or wherever else you're planning to install granite.
All in the Details
The edging of your granite is also up to you. You can choose roughened, smooth, square, rounded or bullnose. Anything beyond those standard options gets into custom territory. There's a premium for custom edges because they're uncommon and may require special tools or skills to shape. However, it's an understated way to make a big impact.
The finish also can be customized, and there's much more available than go-to glossy. A sandblasted finish (which looks like the slab has been roughened by salt water), leather finish or flat matte finish are all gaining in popularity. Opting out of the high gloss can help keep fingerprint smudges at bay, and also gives a home an uber-contemporary feel.
A Custom Value
Kitchens and bathrooms can dramatically impact a home's value — and the asking price, should you ever choose to sell. Custom granite is a great way to increase this value. Granite will last a lifetime with proper care and maintenance. It's a very durable material, but you should re-seal it every few years and use special stone cleaners to help sustain its beauty.
Not sure where to start with a custom granite option? Depend on your local experts to guide you in the right direction, show you everything that's available, and work within your budget. Call Creative Granite & Design today and start personalizing your granite project.