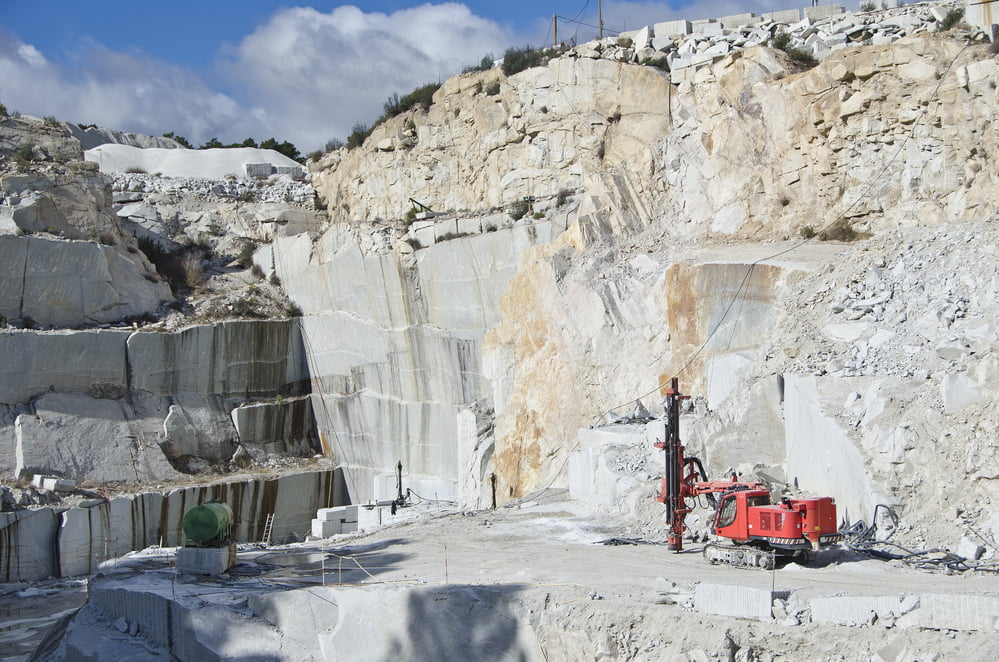 You know your high-end granite comes from a quarry, but what exactly goes on in these labor-intensive spaces?
Quarries are found all over the world, and the type of granite that comes from each is unique (as is every slab, of course). The biggest granite quarry in the world is in Mount Airy, North Carolina, nicknamed "The Granite City," because it has the largest selection of open-face granite.
Visit Mount Airy and you'll be able to check out the observation deck and take in all of the goings-on, from controlled explosions to the transportation of newly unearthed slabs. Explosions happen frequently throughout the day, and each results in the emergence of gorgeous, raw pieces of granite. You can access the deck by car any day during daylight hours.
Hard Rock City
The quarry, in operation since 1743, covers an area of 1-by-½ mile. Every year, more than 2,000 square feet of Caesar white granite is unearthed.
Across from the quarry is one of the world's biggest curb manufacturing plants supplying landscapers and designers. You can also find the second-biggest American plant for producing building facades right on the quarry's edge. However, Granite City's slabs are shipped around the world.
Today, all U.S. quarries are regulated by the U.S. Bureau of Mines and the Mine Safety and Health Act. This agency puts limits on what parts of the quarry are open to the public.
A few years ago, visitors were allowed into the quarry and fabrication shops, but that's no longer feasible, for safety reasons. The deck was built to give you a bird's eye view of the quarry without exposing you to any danger.
The Mount Airy Museum of Regional History, located downtown, also features permanent exhibits on local granite mining.
Your Custom Granite
If you want a slab from Granite City, another quarry or you have your heart set on a specific region, your custom cabinet maker or granite supplier can connect you. Granite specialists network with quarries from all around the world.
Some homeowners have a soft spot for a certain region, want their home all-American, or may have roots in North Carolina and want to represent with some home-based white Caesar.
No matter what type of project you have in mind, remember that where your granite comes from matters. Location dictates colors, patterns and shapes.
It's wise to see your slabs in person if possible, but if not, a series of photos will give you a good idea of what to expect. Having slabs shipped from other locations means you won't know exactly what it will look like until it arrives, but depending on a reputable quarry like Granite City optimizes the odds of a happy customer experience.
For all your granite and natural stone needs, call Creative Granite and get started on your own custom project.