According to Home Advisor, solid surface countertops cost as little as $52 per square foot to install, but the price can run upwards of $120 per square foot installed.
So, why the wide range of prices?
Simply put, it's because solid surfaces with a wide range of options — all of which can affect the amount charged for installation. Here are five factors experts consider when determining the cost of solid surface countertops.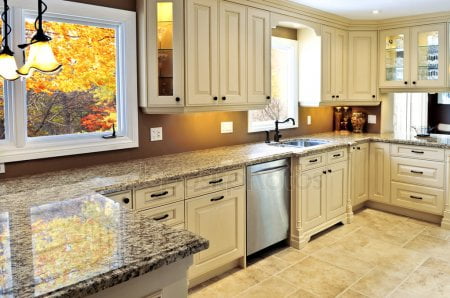 No. 1: Countertop Size
It shouldn't be surprising to learn that project size plays a large role in the total cost of countertop installation. Bigger projects generally take longer to complete, and the greater amount of labor involved increases the price of installing solid surface counters.
No. 2: Material Quality
Not all solid surfaces are created equal. A number of reputable manufacturers create countertop materials of exceptional quality – and, understandably, many of their products come at a higher cost. But, for many homeowners, getting the best quality is well worth the price.
No. 3: Custom Edges
Basic edging is typically included in the price of countertop installation. However, if you want a different type of edge profile – like crescent, bullnose or chiseled edges – you can expect to pay extra. Usually, this amounts to an added charge of at least $12 per square foot.
No. 4: Countertop Layout
When it comes to countertop installation, customization is inevitable. The layout needs to be expertly planned to line up patterns, while also allowing for the perfect placement of backsplashes, sinks and other built-in features. Depending upon the particulars of your kitchen or bathroom, layout customization could add to the project cost.
No. 5: Worksite Location
One of the biggest factors in the cost of countertop installation – and one that many homeowners overlook – is the location of the worksite. If the path from the truck's parking spot to your kitchen or bathroom is long, difficult to navigate or involves climbing a lot of stairs, your project price will increase.
So, how much will it cost to install the solid surface countertops of your dreams? The best way to find out is to meet with a local custom countertop fabricator. If you live in Utah, Idaho or Wyoming, the award-winning professionals at Creative Granite can help you explore your options.
As an Intermountain West industry leader for over 17 years, Creative Granite is known for high-quality fabrication, masterful installation and exceptional customer service. We carry an extensive variety of eye-catching, high-quality countertop materials, and our expert team can help you find a style you love at a price that makes you smile.
For a free, no-obligation solid surface countertop consultation and cost estimate, or to schedule a visit to the Creative Granite design center, contact our Salt Lake City, Utah, office today.