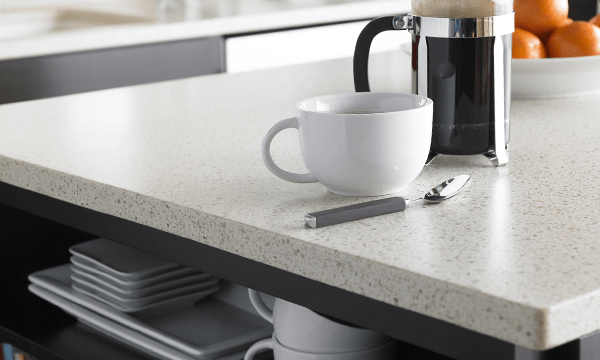 What's the difference between solid surface countertops and natural stone? Solid surface is a manmade material, usually acrylic, that lasts several years with virtually no maintenance. However, these aren't your grandparents' counters. Today's materials are so rich and luxurious that they're often mistaken for natural stone. Keep in mind that natural stone, while beautiful, often requires a lot of maintenance and can be quite delicate.
Some stones are vulnerable to heat, stains, moisture and UV rays — which means they require sealants on a regular basis. That isn't the case with solid surface countertops, which aren't indestructible, but come pretty close. They're easier to mold into just about any shape, allowing them to perfectly fit around any sink in a breeze. Since they're truly solid, they have no pores to harbor bacteria and mold. Plus, they're fire-resistant and boost indoor air quality.
Do Yourself a Solid
Solid surface options have been available for 50 years, and are now decidedly a fixture in the countertop industry. Some fads may come and go (the butcher block is still up for debate), but solid surfaces have become a mainstay as an affordable, attractive and easily customizable option. Over the years, their aesthetics have improved, but one aspect has remained constant: they are arguably the most resilient material available.
This is great news for home chefs who want durability during serious cooking sessions. Chefs know that many higher-end materials, such as ceramic and wood (unsealed), are tough to keep clean. Grout lines can become nightmares, and some natural stones have even been known to crack if a sizzling pan is put on them. You won't have any of these troubles with solid surfaces.
If it Looks Like Luxury …
The original designer of solid surfaces, DuPont, wanted to create a countertop that looked just like natural stone, but was more affordable and had all the durability that stone lacked. The result? A material that was the same throughout, without holes or cracks. Acrylic is the best material to achieve this result, even though a few polyester materials may be marketed as solid surface (but they're not).
Today's solid surfaces are made up of about 33 percent resin and 66 percent minerals. Steer clear of alternatives that aren't as sturdy or as proven as true acrylic. However, do note that solid surfaces have one downside. You truly need a pro to install it, so DIYers need to kick back and relax. For all your solid surface countertop needs, call Creative Granite & Design to connect with local experts who know you really can have beauty and strength in one package.