Granite countertops are incredibly durable, easy to clean and absolutely gorgeous – and those are probably just a few of the reasons you've decided granite is the right choice for your new kitchen counters.
But how do make sure your granite countertops match your kitchen cabinets?
Coordinating the two biggest components of your kitchen design can be a challenge, yet the counters and cabinetry need to be in harmony for your home upgrade to provide a great return on investment. Here are a few tips for getting granite countertops and kitchen cabinets that go together.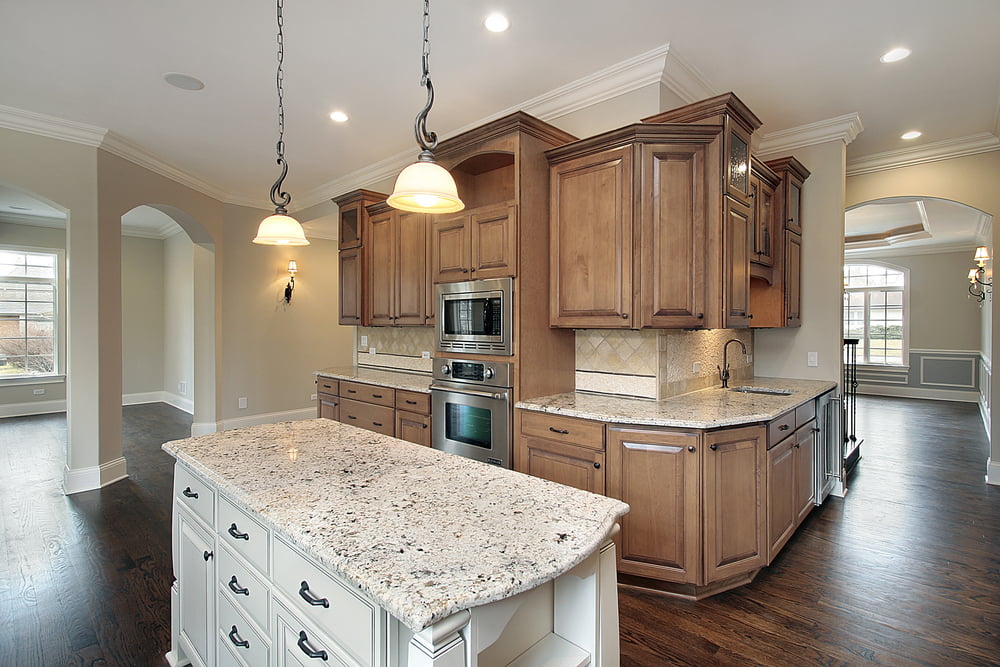 Choose Your Granite First
If you're planning to update both your countertops and your kitchen cabinets, start by selecting your ideal granite slab. An array of colors, vein patterns and designs are available, and you want a counter surface you love. If you choose your cabinets first, matching them to a slab will be a bit more difficult.
Look for Wood Tones in the Granite
If your kitchen upgrade includes natural wood cabinets, keep that in mind as you check out the slabs at the countertop showroom. Choose granite that contains wood color tones, then take a sample to a cabinetry company to find a wood surface that coordinates well with the counters.
Bring a Cabinet Door to the Showroom
Perhaps you've already installed new kitchen cabinets, or you want to keep your current cabinetry. In either case, it's a good idea to remove one of the doors and bring it along to the granite countertop showroom. That way, you can hold up the cabinet to each sample slab and find the best match.
Go for Contrasting or Complementary Coloring
Regardless of whether you're replacing your kitchen cabinets or not, you have two options for pairing them with granite countertops – go for contrast, or select complementary colors. Some people prefer the dramatic look of contrasting colors, while others find similar shades or a monochromatic style to be more appealing. Before you head to the countertop showroom, decide which approach you'd like to take.
Are you ready to choose your granite countertops? If you live in Utah, Idaho or Wyoming, turn to the award-winning professionals at Creative Granite.
Our Salt Lake City design center offers an extensive variety of exceptional granite slabs from around the world, and our friendly team can offer expert advice on how to achieve a well-designed kitchen with coordinating counters and cabinetry.
An Intermountain West industry leader for over 17 years, Creative Granite is known for high-quality countertop materials, masterful fabrication and stellar customer service. For a free, no-pressure consultation to explore your options for custom granite countertops, contact us today.