Custom granite countertops aren't just for the kitchen, you know.
In the bathroom – especially in the master ensuite – granite tops bring unparalleled style and elegance to the room. But this durable natural stone does a lot more than just look good.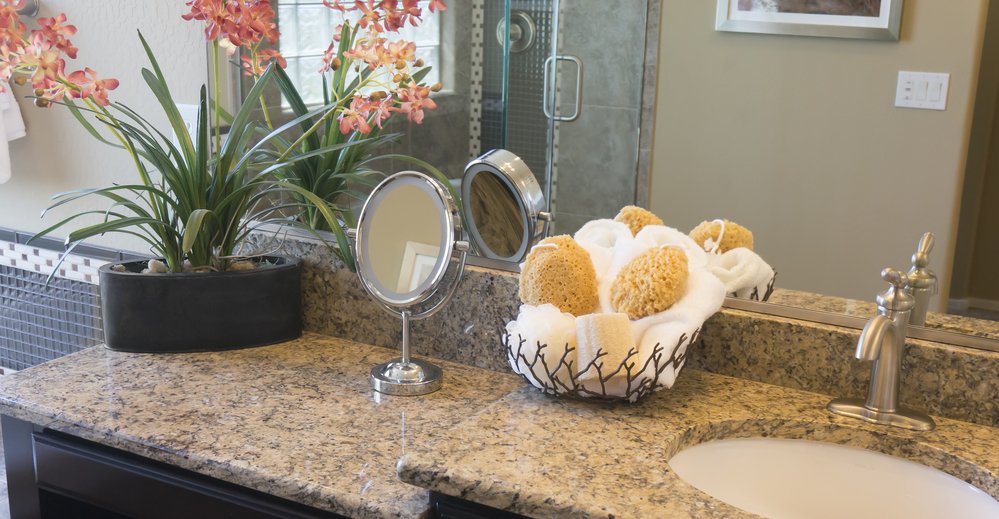 The Benefits of Adding Custom Granite Countertops in the Bathroom
When you add granite in your bathrooms, you will significantly improve the aesthetic value – especially as compared to the ubiquitous cultured marble, laminate or ceramic tile options that most builders use.
You will also enjoy a significantly higher level of durability. In the kitchen, granite is virtually impervious. In the bathroom, there's very little anyone can dish out that will harm this durable surface.
One of the most impressive benefits of installing granite tops in the bathroom is an increase in your home's value. You may not recoup all of your cost for this improvement when you sell your home, but you can expect to recover a significant percentage of your investment.
Is Custom Granite for the Bathroom More Expensive?
As compared to laminate, ceramic or cultured marble, natural stone will potentially cost a bit more to install. However, you won't have to replace it in a few years, like you might with some of these other materials.
Ceramic is prone to cracking and breaking. Cultured marble can discolor and it tends to become dull and dingy looking in as little as a year or two. Laminate chips easily and the steamy bathroom environment tends to wreak havoc on the glue – especially at the seams.
You'll also invest less time and effort in cleaning and maintenance. Properly sealed, you'll rarely have to do more to clean your granite than wipe it down with warm, soapy water.
How to Choose Custom Granite for the Bathroom
The process of selecting granite countertops for the bathroom is nearly identical to the process used for kitchen remodeling.
The primary difference between the two room is the finished depth of the countertops. Kitchen tops are typically about 30 inches deep, whereas bathroom tops max out at about 24 inches. This gives you more room to move around in what is traditionally a smaller space.
If you plan to replace your vanity cabinets at the same time, you will simply visit the granite contractor's design center to select your cabinets and stone slab. You must also select your edge detail. In the bathroom, you will likely want a simpler edge than the more decorative options that are popular in for kitchen edges.
You must also select your sink and faucets, as this allows your contractor to fabricate the slab so that everything fits and lines up correctly.
In Salt Lake City, let Creative Granite help you with all of your custom countertop and cabinetry needs. We also offer quartz and solid surface options as well as sinks and accessories. Call us today to request your personalized estimate for custom granite countertops in your bathroom.