Late last year, designers began mixing custom granite countertops – or mixing natural stone with quartz – in model homes and high-end remodels.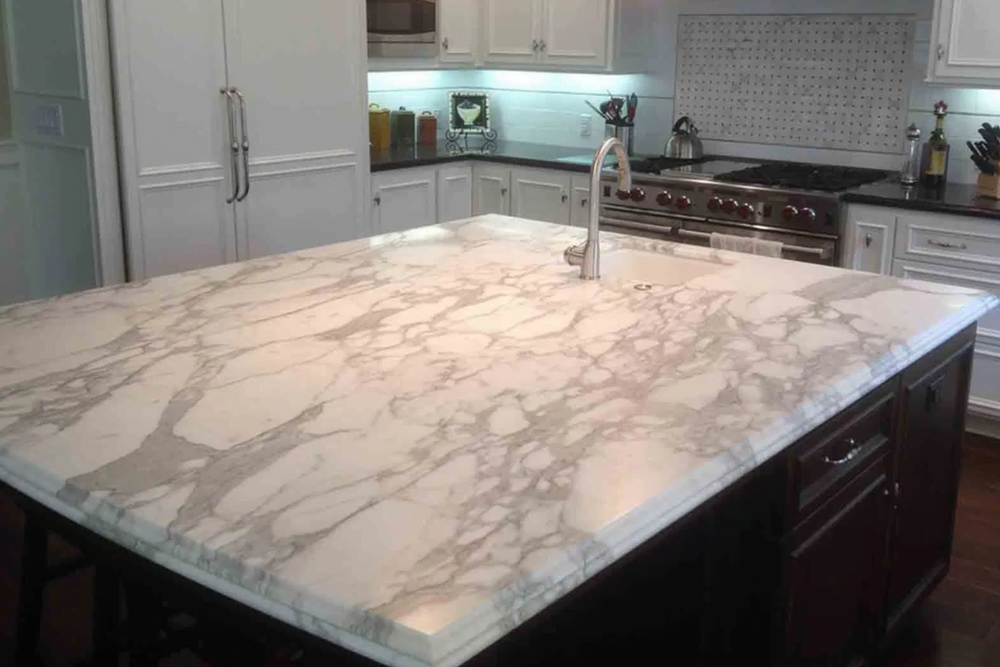 Today, this mashup trend has broken into the mainstream. Builders are using it in spec homes and fix-and-flips, at virtually every price point. Have you seen this fun and fresh trend?
It may be time to think about using one or more materials in your news custom countertops.
Mixing Granite Countertop Materials
In this approach, you use two or three different types of granite in one room – the kitchen or master bath, typically.
Use one bold pattern of custom granite on the countertops and a coordinating, understated choice for the island and backsplash. Or use your bold choice on your breakfast bar. Some designers use a darker, solid granite for the center island and a pattern with movement on the surrounding tops.
If you aren't afraid of color, you can use a strong color of custom granite for the focal point and a subtle, coordinating neutral choice to compliment it.
Mixing Custom Quartz and Granite Countertops
This approach is popular with younger homeowners who prefer the sleek appearance of quartz but also want to add an upscale splash of style to their home.
In many designs, granite is used on the kitchen island and maybe the breakfast bar top. The balance of the room is done in a coordinating color of solid quartz. In the master bath, a center island tub deck is perfect in your granite accent material, while the sink tops and shower can be done in your quartz selection.
How to Mix Custom Countertop Materials in Your Home
If you would like to add this fun design approach to your kitchen, start with a main focal point. (Most clients choose the kitchen island, but you can select whatever aspect of the space you prefer.)
Use the most dramatic, most impressive, most fun material for the focal point. If it's the kitchen island, choose a killer Group 3 or Group 4 granite that you might not use throughout your kitchen, like Lava or Juparana Florence. Give your island a bold edge profile, like a chiseled or Dupont edge.
For the balance of your space, use a more understated material, either a solid or understated pattern. For example, use New Sunset Gold with Lava. Or use Mocca Juparana with Juparana Florence and use a more understated edge profile, like a straight edge or demi-profile.
Or, if you enjoy high contrast, use Slice of Ice Quartz or Galaxy Black Granite with Champagne Pearl Quartz or White Ice Granite.
Or you could give our creative, professional design center a call for guidance. Whether you are interested in updating your kitchen, master bath, home office or any other part of your home or office, contact Creative Granite today. We are located in Salt Lake City and we can assist you with all of your custom cabinetry and quartz and granite countertop needs.