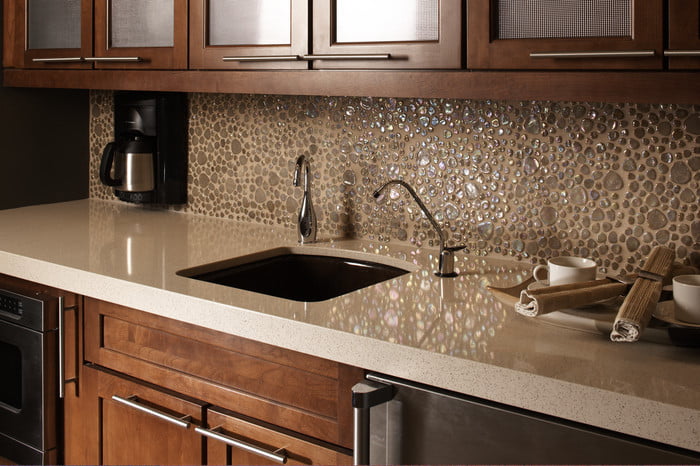 The great love affair with quartz countertops has begun, and more Americans are choosing this material over granite. However, did you know quartz countertops are also a great choice for an investment property?
By far, this natural stone's No. 1-selling feature — the fact that it's maintenance-free — is the leading reason landlords are loving it. A countertop that requires no maintenance, is stain-resistant (no countertop truly can be called "stain free"), and durable? That's exactly what every investment property needs.
Whether you plan to rent out a home, flip it or sell it for a profit, your investment property needs both strength and beauty in equal doses.
Quartz countertops are in high demand, so upgrading a non-natural stone (or one that requires a lot of care and maintenance) can increase the value of a home. You might be able to list the house for more, create a bidding war and get higher offers after installing quartz countertops.
Use Quartz to Help Find Your Dream Tenants
As a landlord, you want to ensure your rental property is beautiful, durable and can withstand the beating some tenants can give it. Even the best tenants simply won't treat a rental property as well as they would a property they own. That's one of the risks a landlord has to take.
You can stack the relationship odds in your favor by making sure high-traffic areas stand up well.
Plus, you don't want the hassle of notifying a tenant every few months that countertops need to be re-sealed. All natural stone, besides quartz, requires regular re-sealing and treatment. Some stones are a little sturdier than others, such as granite compared to marble, but maintenance is still a must.
You'd need to notify your tenants, they would need to clear off all countertops and perhaps vacate the property for a few hours (depending on the sealing process). It's an inconvenience for everyone — and an added expense for the landlord!
One and Done
Quartz never requires any maintenance. However, it's not foolproof. It can still break in extreme situations (like if someone drops a bowling ball on it).
On the other hand, if wear and tear is typical, quartz can last several generations. It can stand up to wine and juice spills, oil splatter — it's a completely nonporous countertop choice. It's no wonder landlords are upgrading their properties to feature these stunning slabs.
If you have an investment property, invest in it! Call Creative Granite & Design to talk to an expert about quartz countertop options and how they can lower your vacancy rates or get you a better asking price on that flipped house.